A good resume format will help you highlight your marketable traits and downplay your weaknesses. Choose the right one, and you immediately improve your chances of success on the job hunt.
The 3 best resume formats
These are the three most commonly used resume formats in 2021:
Chronological (or "Reverse-Chronological")
Functional
Combination (or "Hybrid")
1. Chronological (the standard resume format)
1. Contact Information
FIRST AND LAST NAME
Email: youremail@gmail.com | Phone: 895 555 555 | Address: 4397 Aaron Smith Drive Harrisburg, PA 17101 | Linkedin: linkedin.com/in/yourprofile
---
2. Resume Introduction
Expert [industry] professional with [# of years] years of experience. Seeking to leverage my qualifications in [relevant skills] to fill the [position name] position. A diligent worker looking to quickly take on more responsibility and help [Company Name] achieve its goals.
---
3. Work or Relevant Experience
Most Recent Job Title
Employer Name / Location / Start Date – End Date
Include a bulleted list of your accomplishments
Make sure you quantify (add numbers to) these bullet points
Earlier Job Title
Employer Name / Location / Start Date – End Date
List relevant accomplishments from an earlier job
If you no longer hold this job, make sure you use past tense verbs to describe your experience
---
4. Education
Degree Name / Major
University, Location | Start Date – End Date
---
5. Skills and Certifications
List your relevant skills and certifications
Include a range of hard skills and soft skills
Be as specific as possible. Mention the actual names of software or tools you're able to use
---
6. Additional Resume Section
Here's where you can add any other relevant information
For example, this section could be for any of the following: publications, languages, volunteer experience, or relevant hobbies
The chronological resume format is what the majority of people use to create their own resume.
Chronological resumes begin with your contact details and resume introduction, but then immediately move into your most recent work experience. Because hiring managers care a lot about your work experience (if you have any), featuring this information near the top helps them evaluate your application quickly.
The importance of professional experience for most jobs is why the chronological resume format is used by so many people. However, depending on your background and job experience, you may want to choose a different layout for your resume.
I should use a chronological format if...
I want to demonstrate vertical career progression.
I want to apply to a job in a similar field.
I don't have large work experience gaps.
I shouldn't use a chronological format if...
I have multiple gaps in my employment history.
I am considering working in a new industry.
I frequently change jobs.
Chronological resume templates
If you think this resume format suits you and your background well, download our free templates to get started.
Download These Resume Templates
2. Functional (good for career changers)
The functional resume format focuses on your relevant job skills.
Unlike a chronological resume, the functional format ignores when and where you learned your skills. Instead of focusing on your work history, functional resumes are used to list your strongest resume skills at the top.
In a functional resume, including work experience bullet points is optional. You only need to write your company name, location, and job title for the previous positions you held.
Because functional resumes focus on your skills, this is the ideal format if you have many job-related hard and soft skills.
I should use a functional resume format if...
I have unusually large gaps in my employment history.
I am in the midst of a big career change into a new industry.
I want to promote a specific skill set.
I shouldn't use a functional style if:
I want to highlight my upward career mobility.
I am a student or entry-level candidate that lacks experience.
I lack relevant or transferable skills.
Functional resume templates
Does the functional resume format seem best for you? Download our three templates, choose your favorite, and put in your information.
Download These Resume Templates
3. Combination (best for specialized jobs)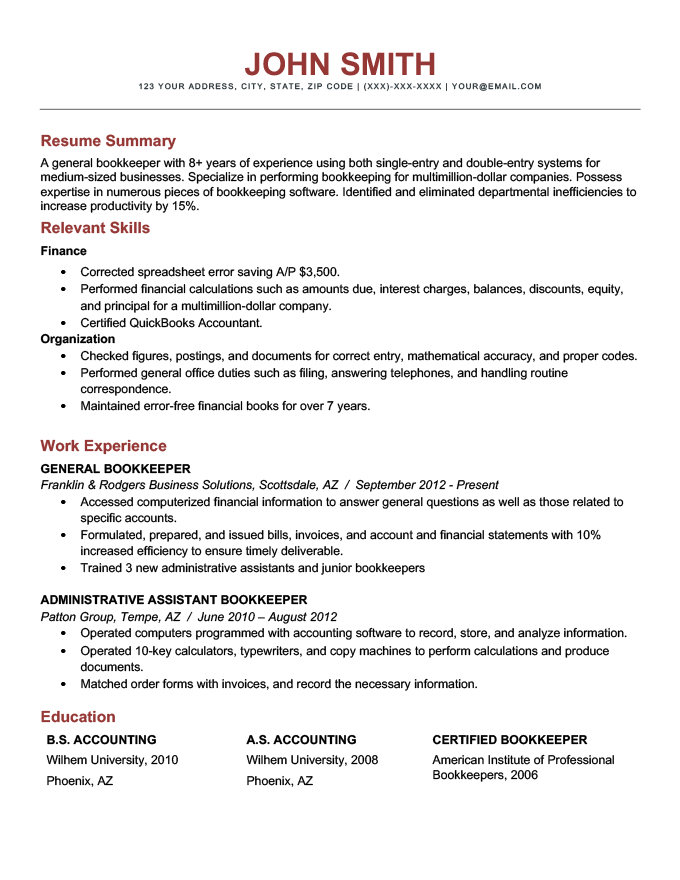 A combination resume is a blend of the chronological and functional resume formats. Combination resumes:
Lead with a core skills section (like a functional resume)
End with a detailed work experience section (like a chronological resume)
If this seems like a lot of information to include, that's the point. Combination resumes are best if you have many skills and a long career using those skills.
I should use a combination resume format if...
I want to showcase a relevant and well-developed skill set.
I want to transfer to a different industry.
I am a master at what I do.
I shouldn't use a combination resume format if...
I have zero work experience.
I want to emphasize my educational background.
I lack the relevant qualifications and skill set for a role.
Combination resume templates
If you have the skills and work experience to fill out a strong combination resume, download our free templates to begin.
Download These Resume Templates
What's the best resume format for you?
Just because the chronological resume format is used by most job seekers doesn't mean it's the best option for everyone. Each format serves a specific purpose, so only one will work best for your skillset and professional background.
Infographic: how to choose the right resume format
Use the following infographic to quickly determine which resume format you should pick when writing your own resume:
Resume formatting tips
Although it's your resume's content that will get you interviews, you should still ensure your resume layout is neat and easy to read.
Here are five quick tips to correctly format your professional resume.
1. Left align the content
In general, you should left-align your resume. Unless your resume template was specifically designed with a different alignment, left is the standard, because it's how people in the US are trained to read.
2. Keep your resume on one page
99% of the time, it's best to only send out one-page resumes. That's because one page is the standard resume length for most industries, and it allows hiring managers to quickly view your relevant qualifications.
However, there are some reasons to break this rule. For instance, you might need a two-page resume if:
you have 10+ years of experience relevant to the job you want
you're writing a management level or executive resume
you're an academic writing a professional CV
you're applying for work in Europe and using a CV template
If you're still unsure how long your resume should be, make it one page to be safe.
3. Use .63″ by 1″ margins
The correct margins for a resume are  .63″ left/right and 1″ top/bottom. This combination strikes the perfect balance between making your resume easy to read, while including as much information as possible on a single page.
If you're worried you have too much (or too little) information on your resume, you can tweak the margins as necessary. Just don't get carried away, or you risk making your resume look unprofessional.
4. Use an HR-approved resume font
The font style and size you choose for your resume won't improve your chances of getting the job, but they can definitely hurt your chances. If you choose a professional font at a readable font size, you'll be okay.
Recommended fonts
Book Antiqua
Georgia
Lato
Trebuchet MS
Arial Narrow
Garamond
Calibri
Helvetica
Cambria
Recommended font size:
While the best font for a resume is debatable, experts agree that font size shouldn't fall below 10.5 or exceed 12.
However, some fonts look better smaller, and some fonts look better at larger sizes. Experiment until your resume looks professional and readable.
5. Save your resume as a PDF
PDF is the best file format to save your resume in. Saving your resume as a PDF ensures its formatting remains exactly how you want it, and that it's easy for employers to open.
Additionally, the red spell-check underlines used by Microsoft Word don't show up on your resume if it's saved as a PDF, making it more visually appealing.
However, you should always check the job listing first for any instructions about how to send your resume.
For example, many bigger companies that use an applicant tracking system (ATS) to scan through resumes will tell applicants to send their resumes as a .docx file. That's because ATS software has an easier time scanning Word Docs.
Resume format FAQs
Still unclear on certain resume format faux pas? Here are some commonly asked questions about resume formatting: